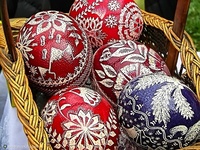 During public holidays, banks, institutions and most shops, bars and restaurants are closed. Some small, privately-owned shops are opened for a few hours, but it's best to get your basic food provisions the day before. On Sundays, most shops, bars and restaurants are open.
Photo: http://modraszek.flog.pl/
Other holidays celebrated by the Poles
Last Thursday before Lent - Fat Thursday
A celebration of the end of Carnival season. Poles eat huge quantities of doughnuts (pączki) on this day.
March 08 - International Women's Day
More popular in the communist era, when women got flowers (mainly carnations) or small gifts. A nice day to have
March 21 - The First Day of Spring
Kids celebrate it by skipping school, which is generally frowned upon by the teachers and parents alike, but it remains an old and celebrated tradition.
April 01 - April Fool's Day
Called in Poland by its Latin name - "Prima Aprilis" - this is a day to play tricks on everyone.
June 01 - International Child's Day
A day when children receive gifts, sweets and are generally spoiled.
June 24 - Midsummer Night
Called also Noc Kupały, this is an old Pagan celebration. It relates to the summer solstice and includes a number of Pagan rituals. Girls float wreaths of flowers often lit with candles on rivers, which make the Polish waterways look eerily beautiful. In recent years, floating of sky lanterns became en vogue. There was an ancient belief that on this night only the elusive fern flower blossomed - bringing prosperity and luck to its finder.
November 29 - Eve of St Andrew's Day
A night of magic, divination and superstitions. Young people throw parties and pour hot candle wax through a hole in a key into cold water, divining their future from the resulting shape.